Although most Canada geese in Missouri migrate to cool northern climes in late springtime, a handful of these substantive birds linger in the Show-Me State for the summer months. During a recent performance by the BRC founder at a marina on the Missouri River, a pair of these honking waterfowl boldly waddled up to and onto the stage, much to the amusement of the audience.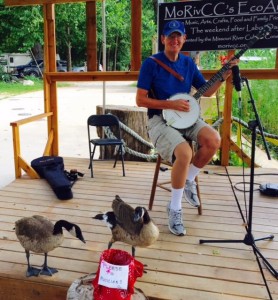 Undeterred by banjo music, the feathered interlopers were attracted to the red bandana wrapped around the tip jar and elected to investigate it. The inquisitive birds patiently lingered on stage to accommodate onlookers with video cameras. The honking flyers then contently ambled on their way and suddenly took to the sky on powerful wings as if on a wild goose chase.  Such is show biz in the outback, but where did this phrase `wild goose chase` originate?
Answer: " Nay, if our wits run the wild-goose chase, I am done; for thou hast more of the wild goose in one of thy wits than, I am sure, I have in my whole five," spake Mercutio in Romeo and Juliet, Act 2, Scene 4.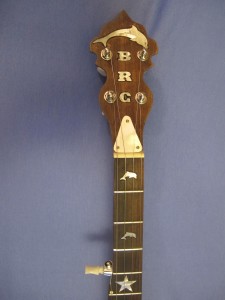 P.S. A uniquely featured open back "Dolphin" 5 string BRC banjo sold on eBay this month, and the new owner`s feedback opined, "Gorgeous tone and quality workmanship at an unbeatable price! A pleasure!"