Six years ago last month, our workshop tentatively uploaded its Banjo Rehabilitation Center website on line, and curious visitors began to slowly  log-on and browse its pages. Our initial mission was to restore old banjos and sell these entry level instruments to fledgeling pickers at bargain basement prices on eBay. In the last couple of years, however, the BRC founder has been transitioning his acquired skills to building original banjos constructed from all brand new parts with elaborate mother of pearl themes. Using standardized parts (180 plus in an open back banjo…) allows for more predictability in tone, resonance, and playability of the instrument. Three of these banjos have been exhibited in art shows. These BRC designer 5-stringers are a joyful enterprise and sold very inexpensively on eBay. Hence, we continue our strong tradition of a deficit fiscal budget.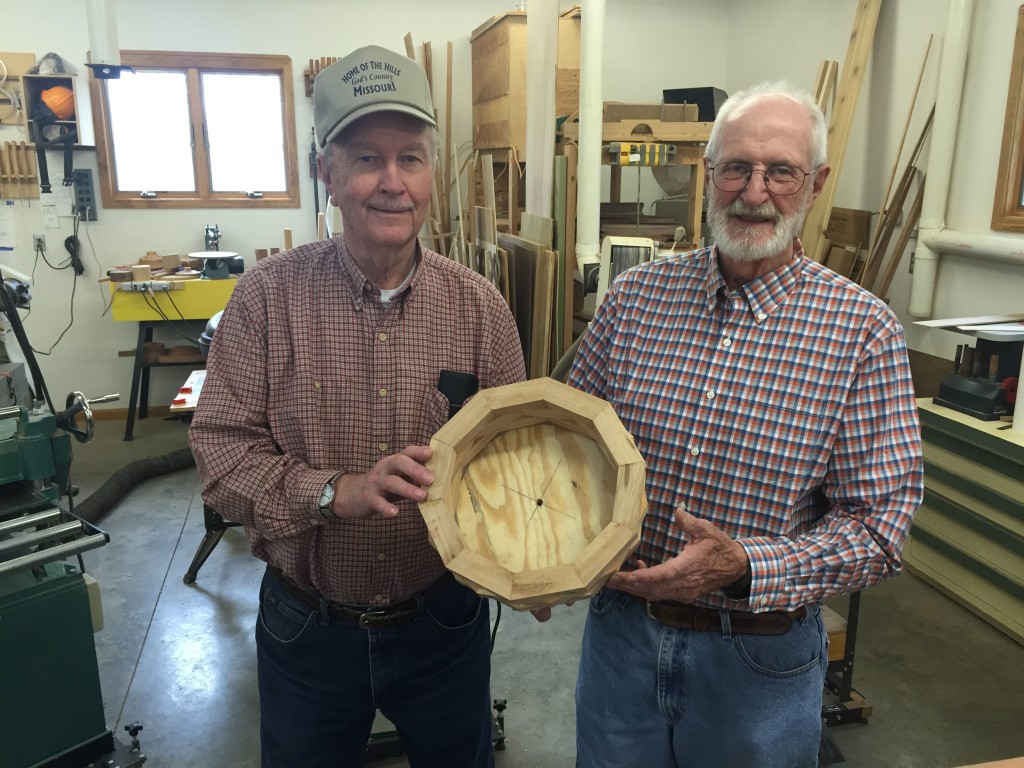 The cherry pots are fashioned by our mandolinist Ron (right), whose fees are met with a donation by the BRC banjo builder to the Children`s Hospital for each item received. Clifford, our old-time fiddler and a master woodcrafter (left), admires a pot under construction by Ron in the latter`s spectacular woodshop. Both musicians are members of our Hall of Fame.
The BRC website has now accrued three-quarters of a million hits. We have been blessed with a faithful readership and national and international correspondents who query our Vega Martin Banjo Banjo Info mailbox. To commemorate the 750K visitor milestone,  the BRC founder has fashioned a unique and seafaring "Dueling Dolphins" 5-stringer. Look for the "open back Dueling Dolphins 5 string BRC banjo" on eBay May 7-14.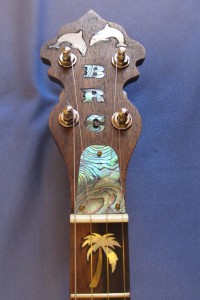 Thanks to all you good folks for your patronage! Be reassured that we  steadfastly remain,  in the most literal sense, a truly non profit organization.