Three members of the BRC founder`s band teamed-up with a powerhouse dobro player (seated right in photo) to perform at the weekly community Farmer`s Market last weekend. While the patrons busily shopped for organically grown local produce, gluten-free baked goods, and free range meats and eggs, they were entertained by an eclectic array of genre-crossing music including traditional fiddle tunes, bouncy blues songs,  and some rollicking vintage hard rock.  Fifty percent of the tips were donated to the local Children`s Hospital.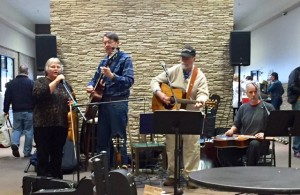 A few days later, the BRC founder`s singing group the "G&F Quartet" was scheduled for its annual pre-Valentine`s Day songfest on the pediatric ward of the Children`s Hospital, but winter storm road conditions reduced the singers from 4 to only 2 voices.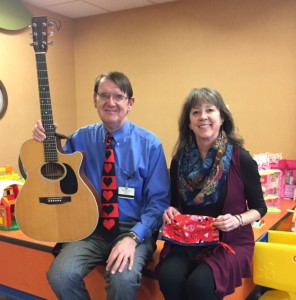 Shortly into the gig, however, we discovered that the mother of a patient was a ready and capable harmony singer. The mom stepped-up per our invitation, and the G&F Duo was promptly upgraded to a Trio with her alto assistance. During the sing alongs, festive surgeon`s caps sewn by seamstress nurses were distributed to the kids. For a lark, the Trio boldly finished up the performance by experimenting with a famous children`s song from a Broadway musical/movie. This impromptu finale came off without a hitch, and the tune was added to the permanent G&F repertoire. Our  guest vocalist was thanked for her gracious and timely participation in the proceedings.