A few months after getting married in 1971, the BRC founder purchased a long neck 5 stringer cobbled together from parts left-over from the Ode banjo company after its purchase by Baldwin. His bride was destined to see a parade of more than 30 banjos stream through their house in the ensuing years, a cavalcade which was culminated by a banjo repair shop cropping-up in her basement 6 years ago.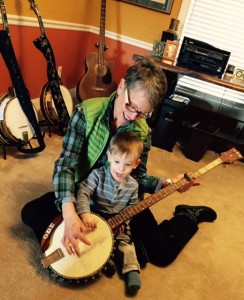 With her spouse`s permanent collection of 10 prize banjos stationed around the house, his wife recently designated his vintage Ode banjo as the one instrument that their curious grandchildren could play.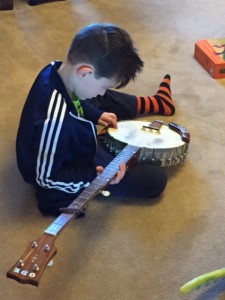 Although the Ode had long ago been relegated to a dark and  remote corner of the house to collect dust, the grandkids have reawakened their grandfather`s interest in this mellow and well-seasoned 5 stringer. It has now resumed the premier role of being his daily practice instrument thanks to the grandkids who love to experiment with it.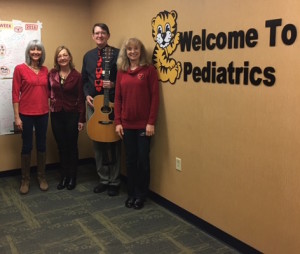 Speaking of kids, the G&F Singers entertained again this month at the Children`s Hospital. This trio of women effortlessly accompanies the baritone BRC founder by singing four part harmonies in songs familiar to patients, siblings, and parents. The lilting soprano, alto, and tenor female voices are church-choir trained and require no rehearsal. Ladies- thank you for graciously sharing your vocal talents with the children and families.
P.S. Check-out the `5 string  "Freedom Eagle" open back BRC banjo` on eBay Feb. 25- Mar. 4 and its cousin the "Golden Eagle" banjo  Feb 26- Mar.5.